Every Ekta Solanki outfit has it's own bridal story.
A collection of spontaneous messages of endorsement from Ekta Solanki brides, delighted with their dream wedding outfits. We love to supersede our bride's expectations…
Ekta!! You are amazing ❤
honestly a big fat massive thank you for making my dream lengha and making me feel like a doll. Everyone LOVED it; the amount of people who came up to me and asked where I got it from was unreal. You're too good!
You've been great from the start all the way through to the end. You're a lovely person! I didn't feel stressed once throughout the whole process, you're so easy to work with and always there if I did need to speak to you. Your team, wow, simply legends. The time, effort and love they put into making my outfit definitely was seen. Thank you and big hugs. I love my outfit and there is nothing at all I would change.
Simren Khangura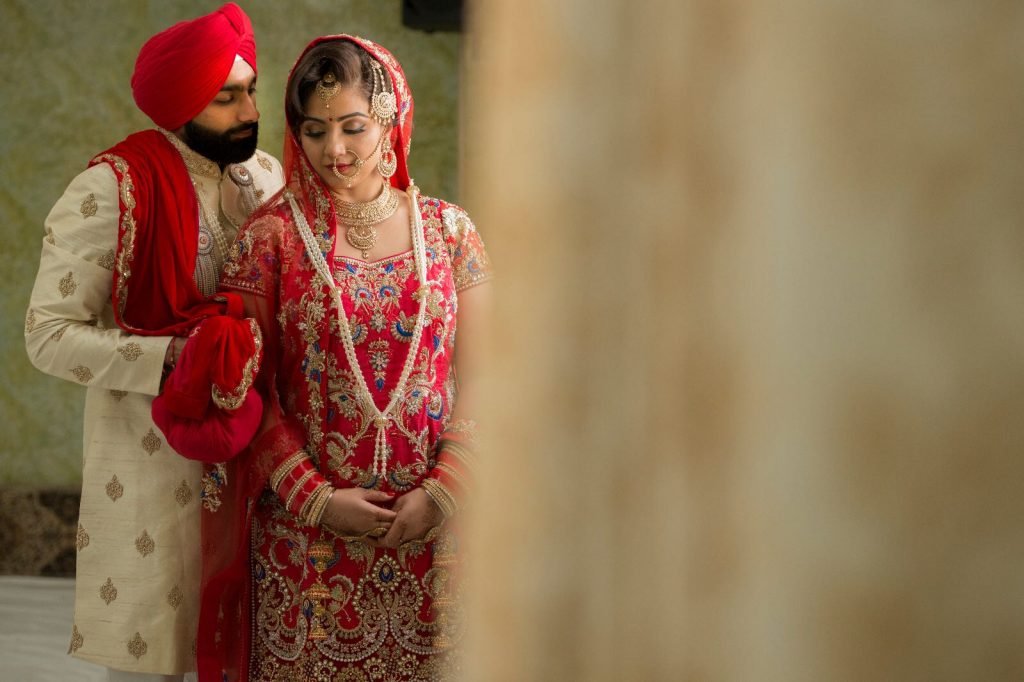 Whilst choosing my wedding outfit I had a few designers in mind but I couldn't be happier and never regret placing an order with Ekta Solanki. From start to finish not only was my outfit bespoke but also so was the service I received. From face time meetings, to face to face I felt in safe hands not only before I placed my order but after as well. Through all the pictures and suspense it was hard not to be scared and nervous of the real piece but as soon as I saw my outfit I was in love and knew that I had made the perfect choice trusting Ekta to do what she does best!
Sharon Nahal
I was 14 when I told the world I was going to wear Ekta Solanki on my wedding day, at 27 that dream came true.   Thank you for making me the bride I had always wished for.  You are a magician- my fairy godmother!  I will always cherish those memories of making the outfit & wearing it.  Love always, your biggest fan.
Priya Grewal
Having searched far and wide for my dream reception gown I had been left feeling a little hopeless until, that was, I met Ekta. She injected her own brand of positivity and enthusiasm into my pursuit, and unlike other designers reassured me that the time scale I had would be enough to create my vision. The design process was a lot of fun. In her showroom, surrounded by her beautiful creations I was able to pick out the style of embroidery I liked show her many different pictures that inspired my own vision for my reception gown, and creatively she was able to merge the two.
The whole design process with Ekta is extremely inclusive. After the design was finalised I received detailed sketches of my gown, illustrating the embroidery and how the panels would fit together. We met again to look at fabric swatches and embroidery samples and most importantly she created a muslin version of the gown to ensure the fitting was perfect. She sent me pictures throughout the creation of my outfit to show how the embroidery was coming together and was so reassuring during something, which is a fairly stressful process! I absolutely loved my reception gown. I received so many compliments and I felt like a princess. At the end of the evening, after all had been said and done, I still did not want to take it off!!
Ekta is a beautiful person, a talented designer and exactly who you would want to guide you through the minefield of acquiring your dream-wedding outfit. I cannot recommend her highly enough.
Indarpreet Channa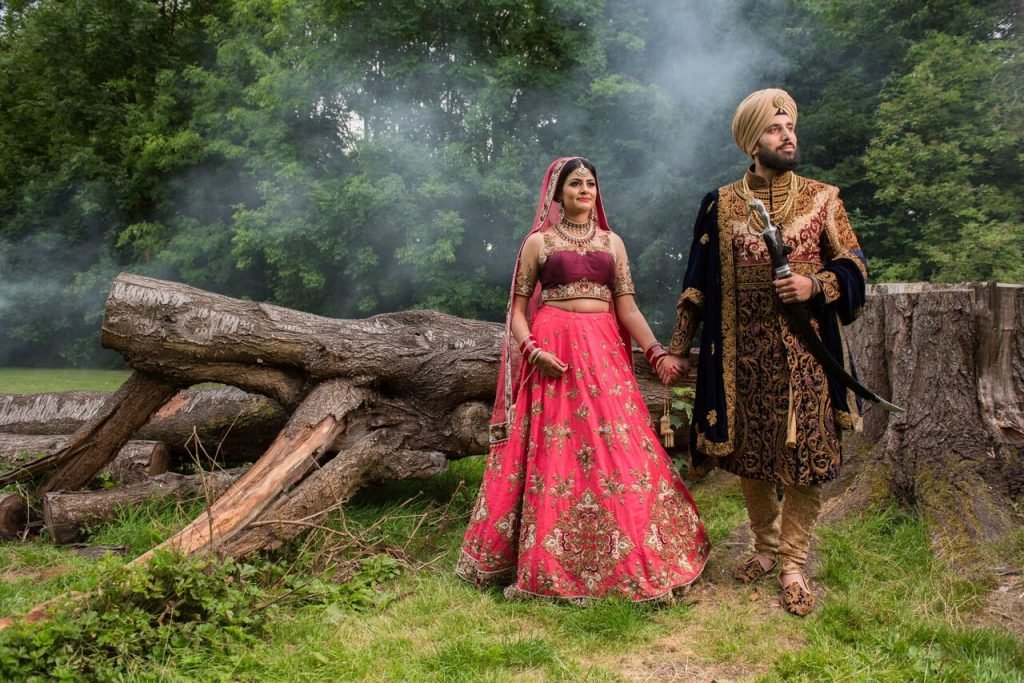 I had been following Ekta on Instagram since my early 20s and always said, "When I get married, I want Ekta Solanki to design my lengha". When my time finally came, I got in touch with Ekta and the service I received from my initial contact was faultless. I had a vision in mind of how I wanted my lengha to look, and from our first appointment, I knew I had made the right decision. Ekta kept my mind at ease and I had my full trust in her. She kept in touch and showed me my wedding piece as it was made to ensure everything was how I wanted it. Going with Ekta was one of the best decisions. I didn't have to worry about my outfit at all as Ekta took that pressure off and delivered my bespoke piece well before my actual wedding, allowing me time to accessorise accordingly.
Monica Kandola
My journey for my wedding gown began a very long time ago, when I fist came across Ekta Solanki in a bridal magazine.  I instantly fell in love with the intricacy of her embroidery & the simplicity of her garments.  I knew one day I will wear an Ekta Solanki piece on my Big Day & staying true to this, I did.  I first remember contacting her via email & arranging an appointment to meet with her.
During my appointment, we discussed colours, fabrics, embroidery, flairs, cuts & much more.  Ekta was so professional, honest & creative.   I made the decision to go ahead with her to create not only my Bridal attire but my husband, Robins sherwani and handmade jooties too.
Ekta created the most beautiful & breath taking outfits in my eyes for both of us.  So much love & attention had gone into our outfits,  not a single detail was missed.  We exchanged so many whatapp messages, phone calls & facetime meetings.  She kept us informed throughout the various stages of production & informed us of any inspirational ideas she had to make the outfits even better.  She is a wonderful, gentle & caring person, whose goal is to ensure her brides look and feel like princesses.  I really did feel like a true Bollywood Princess on my Big Day & my husband looked & felt like a true Maharaja.  Thank you Ekta for your creative ideas & all the long hours & months of hard work.
I would recommend every bride & groom to be to visit Ekta Solanki for the wedding attire, she is brilliant!
Ekta, may you continue to make brides and grooms feel like real life princesses & princess'.
Robin & Jyoti
I went to India to do all my wedding shopping. All my wedding outfits were couriered to me a month later but most needed some alterations to them.  The day I arranged to have them altered with the tailor, all my wedding outfits were stolen from the boot of my dad's car. 6 weeks before my wedding and I was devastated I wouldn't wish this on any bride. I was calling the designers back in India requesting for them to make the same outfits for me again but with Diwali coming up and with just a 6 week window all except 1 refused to make them.
It was at this point that Urvashi from Amore wedding planners advised me to reach out to Ekta Solanki. I loved Ekta's designs but I was under the misconception that she was based in India and like the other designers my request may not be worth her while.
I was wrong! I called Ekta and it just so happened that she was making a trip to London a week later (now only leaving us with 5 weeks).  She asked me to send her pictures of what I liked and 1 FaceTime meeting later she had already designed my Sangeet and Reception outfits leaving her with just the measurements to capture when she was in London.
Throughout the design and production process she whatsapped me regularly with pictures and updates. At one point she could sense I wasn't in love with the reception dress and overnight she understood exactly what I was looking for and sent me a video of the most beautiful reception dress ever. She made me feel like a princess!
She took the time out of her busy schedule to buy matching jewellery for my sangeet outfit and  liaised with my mum and sister in getting the churra for me to match my wedding lengha which she wasn't making. None of this was her responsibility but she took it upon herself to ensure that I was stress free before my wedding, like a close cousin or friend would do.
Both my outfits were better than I could have imagined and required zero alternations when they arrived in the UK, with a week to spare before my big day. I can't thank Ekta and her team enough for what they did for me and will always be grateful! I would go as far as to say that the outfits I ended up with were far better than the ones that were stolen.
Namita Selhi
As a bride I wanted a unique statement wedding dress. I love Indian dress and wanted the highest quality of rich and delicate fabrics, embroidery materials and motif work. But, I could not go without the perfect fit of English/French couture. With Ekta you get this perfect hybrid. I also received the most amazing bespoke tailor-made service from Ekta herself from as early as the initial meeting and design through to the final fitting. Ekta works to the highest level of detail and precision and she certainly delivers on quality and originality. I am very particular about fabrics and how I dress and I did not think anyone could create a wedding dress that would meet my expectations. Ekta exceeded them. She is extremely creative and guides you through selecting styles, colours and fabrics to compliment your shape, complexion and personality perfectly.
For my particular outfit, Ekta took into consideration various details of my wedding venue. Having gone through my initial fittings and design with Ekta, I knew that only she could design and tailor make a perfect wedding outfit for my husband. I had no idea what she would create but Ekta assured me that our outfits would complement each other well. I am still in awe to this day with my husband's wedding piece. Ekta selected different fabrics, colours and embroidery to my wedding dress so as to suit my husband's complexion and build. Our outfits married together amazingly.
This may sound cliché, but words are not enough to express how talented Ekta is as a designer. The journey of dress design and creation that Ekta takes you through is a wonderful experience in itself.
Natalie Mathura
Simply put, Ekta Solanki Haute Couture is beyond perfection. For a bride, the dress is the most important part of her day-it's what makes her memorable, beautiful and of course, the centre of attention-hence nothing but perfect is acceptable. Ekta's designs surpass all of these expectations and the service she provides makes you want to live your wedding day and live through your wedding preparations day in and day out!
I went to see Ekta 18 months before my big day and after that first consultation I felt my day would be spectacular: Ekta injected so much passion and love into ideas for my dress that I pretty much fell instantly in love with her and the design for my dress! The thought, sincerity and care she took over colours, materials, fittings, embroidery, you name it, was just lovely. Ekta has such a warm heart and the relationship we maintained during my wedding preparations was very much appreciated, and my family and I are so happy that we can now too, call her family!
Not only did Ekta design a gown that makes my heart skip a beat every time I look at it, she also made my special day so much more exciting by designing outfits for my mum, sisters and fiancé. Even if I do say so myself, we all looked absolutely awesome on the day and that is purely thanks to Ekta! Everytime my family, friends and I look back at the wedding pictures, we just can't take our eyes off of her beautiful designs and frankly, my dress was beyond anything I could have imagined! The best compliment I recieved on the day was that I looked like an 'Arabian Disney Princess' and Ekta made that happen-thank you is just not enough gratitude for that woman!
I highly recommend Ekta Solanki Haute Couture to future brides, not just because your dress will be one in a million, but the experience of working with Ekta and going to her studio is exciting, wonderful and just so much fun!
Thank you so very much Ekta, you made my day more memorable and beautiful than I could ever have hoped for. Love you long time!
Zahara Sheikh
From the first consultation with Ekta Solanki, I knew my bridal pieces were in the safest of creative couture hands. The process was seamless; choosing colours, motifs, designs, and being fitted in to the breath-taking pieces, at every moment she makes you feel remarkably special. I feel blessed that Ekta Solanki designed my bespoke wedding pieces. It was a privilege to wear such stunning clothes by a truly talented designer and such a warm and wonderful person. Sensational! Thank you for creating truly beautiful everlasting memories.
Much Love, Serena and Matthew Peirce xxx
Ekta is a dream to work with! I had always envisioned every single piece of my wedding day – but surprisingly, I was at a complete loss at my outfits. Fashion is something that is incredibly important to me, and though I knew what I didn't want, I had not found what I did want.
I had just started a new job and was not able to take off time to travel to Indian, and there are very limited options in Southern California. Thank God for Pinterest – that is how I found the amazingly talented Ekta Solanki. My jaw literally DROPPED when I saw this gorgeous cream and gold lengha. I was so thankful that the pin also had her contact information – I quickly emailed her and after about 40 email exchanges, I signed my contract.
At first I was of course a little nervous, I had never met her and was trusting her online testimonials and photos of her work. But Ekta was without a doubt the best decision I ever made for my wedding. She had me provide her with every measurement you could think of – there were literally measurements I had never even heard of that she wanted. This is because she is so detail oriented and wants to ensure that each piece fits the respective bride like a glove. She then sent me a mockup for sizing purposes along with different fabric swatches. She was constantly in contact with me through What's App and email, and would send me weekly photos of progress and updates on my outfits. What I loved most about Ekta is that not only is she incredibly gifted, but she is so humble. She involved me in the design process completely, which I am still to this day so thankful for. Over a year has gone by since my wedding and I still constantly receive compliments on how beautiful the outfits were. If you want Haute Couture and want to truly feel like a princess on your wedding day – then Ekta is your go to gal. Thank you Ekta for fulfilling my wedding dress dreams and making them a reality. I am so thankful for you and the friendship we have developed since then!
– Neena Kantaria
I'd come across Ekta's designs through family and friends years before I was even engaged. When it was my turn, I always knew I wanted something bespoke…something that oozed originality and elegance. I had a brief look in the usual High Street shops but my heart was not in it.
I had my first consultation with Ekta and knew right away that I could put all of my trust and faith in her to create something that reflected my personality and ensured I would feel comfortable on my big day. After a couple of consultations, Ekta knew what I was looking for and I pretty much left it all in her hands.
I do not recall feeling anxious, worried or impatient at all during the process. The regular updates were a great way to keep any potential nerves at bay. I was surprised at how accurate the mock-fitting was and little adjustment was required.
Ekta maintained an approachable attitude throughout the whole process, making it effortless for me to share any ideas or concerns with her in the run up to the wedding. I opted for a second blouse fairly late in the process. With little research on the design or knowing what I wanted, I left it completely in Ekta's capability to make me a top which was glamorous, classy and with a touch of sexiness to it. The shape of this corset was absolutely perfect, highlighting all of the right curves in the right places!
The outfit arrived with ease and was more beautiful than I could have imagined. It was just what I wanted…simple yet strikingly exquisite. The hand-sewn embroidery radiated quality and knowing it was made especially for me made me feel like one in a million!
Navita Tanda
I am so glad that I chose Ekta Solanki to design my wedding Lengha for me, from the moment I set eyes on her designs I knew they were something special! From the first consultation, to the day I collected my outfits Ekta provided impeccable service, she was friendly, polite and professional as well as being honest about what would suit my body shape to create the look that I wanted for my wedding day. She guided me through every aspect of my wedding outfit from the colours, fabric, embroidery right down to what jewellery would compliment my outfit. I cannot express how beautiful her work is it supersedes anything else out there, if you are looking for an elegant, classic wedding dress which is beautifully tailored to meet your requirements then I would highly recommend Ekta Solanki!
Pervier Kang
From the moment my husband proposed to me, I knew that I didn't have to worry about my outfit as the only person I would go to was Ekta Solanki.  I have admired her work over the years and was excited to see how she would be able to create a bespoke piece for me.
My outline brief was I want the outfit to look regal without traditional bridal colours,  and that's exactly what Ekta followed. She listened, understood and kept me informed with every detail each step of the way and created a bespoke creation not only for me, but also, my husband and my mother who were equally as impressed with her wonderful, warm and consultative approach to the outfits. She managed to exceed my expectations and made me feel like a princess on my special day with the regal and rich look she created for my husband and I.
I cannot recommend Ekta highly enough, with her creative expertise coupled with a wonderful and warm personality, you have more than a safe pair of hands, you have someone who creates magic in Indian couture.
Ekta thank you for all of your support throughout the wedding period and for making me achieve the jaw dropping reaction I was hoping for from Rik!
Sonia Karia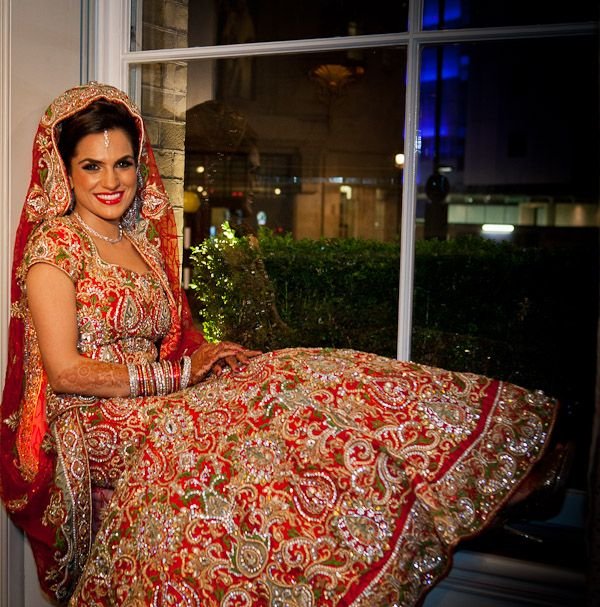 Hi Ekta,
I cannot even begin to tell you how happy I am with my outfit and I cannot even thank you enough. I know that you said that I made your day but you have made far far far more for me!!!! I think I was rather shell-shocked when I saw it and I cannot believe that such a beautiful outfit is mine! I also cannot believe that an outfit can move me to tears!!!
I love your passion and feel so fortunate that YOU have made my wedding outfit with your heart and soul!
You are truly INCREDIBLY talented!
Aisha Opel
Ekta,
I was delighted &amazed to see my suit,  you will not believe how many compliments I was getting.  People were constantly asking where we bought our outfits from? They commented on the superb quality, ES was without a doubt turning heads where ever we went.  When we saw Aman we just gasped! She looked AMAZING, & of course Magan, Magan was truly So impressed, she said she couldn't believe how beautiful it looked,.  She looked a million dollars, something so unique & so rich & royal, she looked like a true royal princess….. you would of walked away with another award, every one in Canada was impressed, truly jaw dropping! I could not believe how amazing my suit turned out, I fell in love with it, the moment I saw it.  Thank you, thank you a million times,  you were right, Magan's outfit was just STUNNING!!! When we saw it, OMG!! Wow amazing!!!
Daisy Mehat
I had most brides nightmare… I went to India, bought my bridal outfit from a designer who will be best unamed, received it in London 3 months later only to find is was a complete disaster! For weeks a trawled the streets of England looking for a replacement but everything looked exactly the same and they were all covered in way too many stones! Feeling deflated and exhausted, I sat in front of the TV and discovered the 'Wedding TV channel. Just as my luck would have it – it was an interview with the gorgeous Ekta Solanki. She wasn't like the others. No hard sell, no blagging and best of all no nonsense. From the minute I saw her I needed to book an appointment with her! She was like a breath of fresh air with actual fashion qualification and luxury retail experience. She spoke my language. We live in a world of beautiful fitting couture and you have made spending my hard earned cash of ill fitting indian couture history! She understands western shapes, cuts and patterns that we in this country have grown accustom to.
I made an appointment the very next day and the rest was history! The journey was too easy. I totally trusted Ekta to create my dream.  I wanted to wear my outfit, not have it wear me. I wanted a celebration of traditional techniques like zardozi and no stones in sight. I thought I wanted to wear the traditional shade of red but Ekta opened my eyes to a whole new range of shades that I would have never considered. I went with a 2 tone red and magenta raw silk teamed with a red duputta. Ekta read me completely. Created the perfect piece for me and even made my dream come true by having a kund (veil) which every other store I had visited had refused to do for me.
From the minute I left Ekta's showroom, I received regular updates and pictures throughout the design stages. From the pattern room to the embroidery stages. Such a beautiful touch. I knew exactly what was going on with my outfit and I thourghly enjoyed the 'exclusive behind the scenes' journey.
To everyone's amazement I went from being outfitless to owning the most beautiful wedding lengha! What's more, Ekta made the ultimate dream come true…  She made my husbands palla in the same fabric as my outfit with the all important initials – "YNWA". Yes that's right, I found a place for my husbands love for Liverpool FC on our wedding day as we walked around the Baba's Bhir each holding an end of the palla and promising each other that "you'll never walk alone".
EKTA SOLANKI YOU ARE THE ULTIMATE DREAM MAKER! The only thing I can compare you to is the fairy Godmother in the ultimate fairytale- Cinderella x
Sameeta Bedi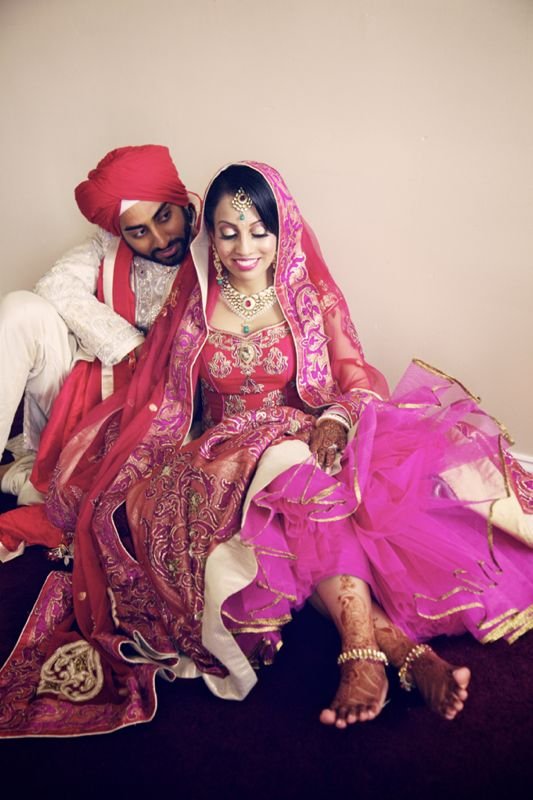 After months of admiring my dream wedding lengha, online through pictures. I finally hopped on a lane heading to India for wedding shopping. I stopped off in London on the way, to have a consultation with the wonderful Ekta Salonki. She was warm and very welcoming.
I fell more in love after seeing the lengha in reality, it was simply Amazing! After having seen the rest of her collection, I was almost in disbelief that I had stumbled upon someone as creative as her. After explaining to her that I was going to browse around in India, for bridal lenghas before I made my final decision.
Never once did I feel pressured by her, instead she encouraged me to go to India and look around before I made up my mind. Running around India from shop to shop for about two weeks, I finally came to the conclusion that her Lenghas were unique and they were indeed couture.
I could search India all I wanted, but I wasn't going to find any lengha that came close to the ones in her collection. She has a very particular vision, and her creativity cannot be matched. It's very rare that you'll see her replicate any of her pieces for her brides.
She takes great pride in her work and each one of her bridal lenghas are customized to compliments the brides size, personality and flatter her in a way where she was look glamorous on her big wedding day. She definitely has an eye for how to make brides feel and look beautiful in her bridal lenghas. Sure one can go to India pick out a lengha, place the order and wait for it to be couriered abroad once it has been completed. But what bride to be wants unexpected surprises to leave them disappointed. Not with Ekta, she updates you throughout the process of creating her masterpiece. This allowed me to express any concerns that I had along the way. I can honestly say that I'm incredibly happy with my decision to have Ekta Solanki to design my wedding lengha.
It was truly a memorable experience that I know I wouldn't have found anywhere else. My bridal lengha was so beautiful, I truly felt like a princess! And everyone and anyone who saw it was left speechless. Now only if I can find a way to re-wear it!
Preety Singh
"Thank you to both Sunita and Ekta for all the hardwork you put into my wedding dress. From the initial consultation and throughout the process I was kept up to date at all times and every detail was thought of to ensure my dress was perfect for me. I highly recommend Ekta Solanki Bridal Wear, my piece was truly unique and beautiful and I felt fantastic in the outfit on the day. The wedding dress shopping experience can be stressful but after meeting Sunita I was instantly put at ease! Thank you again and I wish you all the best for the future xxx"
Hope that's ok!
Sahiba xx